Ram Rebel TRX Concept
One look. Just a split-second glance. That's all it takes to realize that the new Ram Rebel TRX truck is special.
In fact, calling the Ram Rebel TRX a truck might even be a bit of a stretch. With its standout interior, performance and off-road capabilities, the TRX is practically an off-roading hot rod. It might be time to invent a new classification. Whatever you call the Rebel TRX, though, you will want to call it your own!
If you are looking for new Ram truck models for sale in the Tempe, Phoenix, Glendale or Gilbert, AZ, areas, learn more about the new Ram Rebel TRX at Tempe Chrysler Jeep Dodge Ram.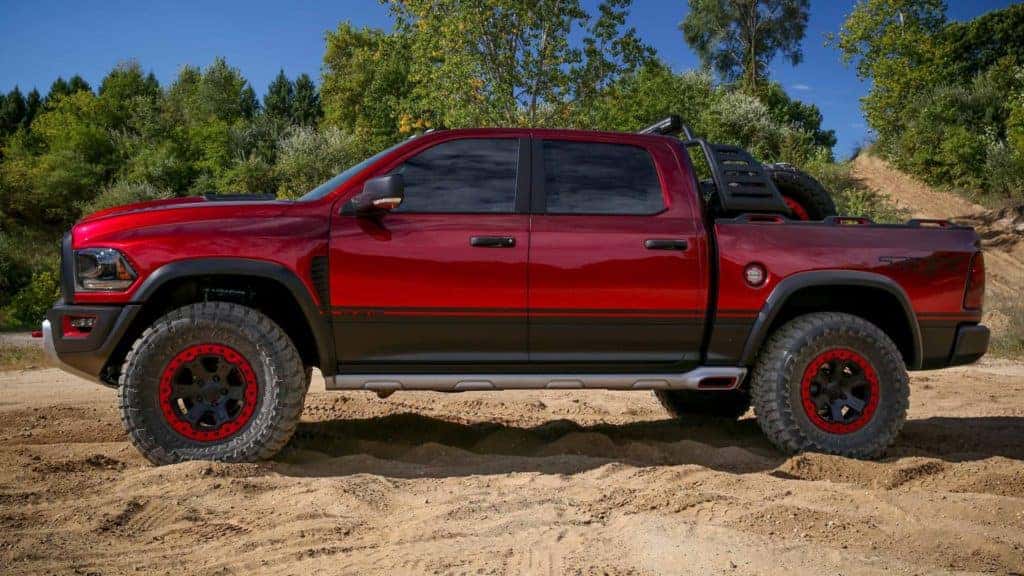 It's All About the Power with the Ram Rebel TRX
The Ram Rebel TRX will come with a 6.2-liter HEMI® V8 engine that produces 575 horsepower. According to Ram, the 6.2-liter HEMI® will be the most powerful standard engine in a half-ton truck. And you'll be in complete control of this powerful engine thanks to the paddle shifter you won't find in many trucks.
A raised hood and black accent vents on each side of the hood help the Rebel TRX's big engine breath and look more menacing. Inside, a six-point racing harness keeps your safely secured in the specially designed suede seats as you go conquer the trails.
Feel Good While You Tackle the Trails
Getting to the grocery store or to work on smooth city streets is easy as pie with the Ram Rebel TRX. But off-road fun is why this truck was designed.
The design of the unique link-coil rear suspension on the Rebel TRX was based on the suspension system used in extreme off-road desert racing vehicles. An optional 4×4 Performance Control System on the Rebel TRX provides stable traction on most any terrain.
At this stage, the Ram Rebel TRX is still in the design stages, but the truck should be in production sometime in 2017. In the meantime, swing by Tempe Chrysler Jeep Dodge Ram in Tempe, AZ and view our extensive inventories of new and used cars, trucks, and SUVs.